SPM Products
> Probes
Line-up of Probes
For STM and Multi-Probe Electrical Measurement
Platiniridium Probes (Mechanical Grind)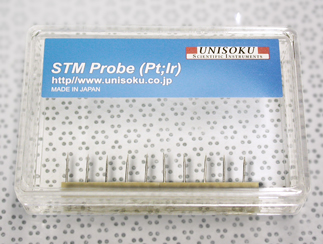 | | |
| --- | --- |
| Type | P-50 PtIr |
| Shape | Cone shape |
| Wire rod | Polycrystalline PtIr 0.50 mm dia. |
| Length | 10 mm |
| Polishing | Mechanical grind |
| Curvant radius | about 50 nm (without the guarantees) |
| Use | STM measurement/multi-probe electrical contact measurement |
| Sales unit | 1 set for 10 probes |
---
PDF
Tungsten Probes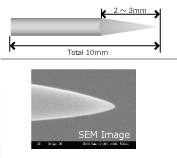 | | |
| --- | --- |
| Type | P-100WS |
| Shape | Cone shape |
| Wire Rod | Polycrystalline Tungsten 0.25 mm dia. |
| Length | about 10 mm |
| Polishing | Electro-polishing |
| Curvant Radius | <35 nm |
| Use | STM measurement |
| Sales Unit | 1 set for 10 probes |
| Note | Oxide layer on the surface is not removed. |
Ni Probes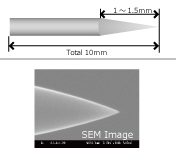 Type
P-100Ni(S)
Shape
Cone shape
Wire Rod
Polycrystalline Ni 0.25 mm dia.
Length
about 10 mm
Polishing
Electro-polishing
Curvant Radius
<25 nm
Use
STM measurement

* It's possible to make a special order of Au or Ag coating probes. (Coating thickness: about 100 nm)

Sales Unit
1 set for 10 probes
Note
STM observation in magnetic field is not allowed.
Platiniridium Probes (Electro-polishing)
| | |
| --- | --- |
| Type | P-100PtIr(S) |
| Shape | Cone shape |
| Wire Rod | Polycrystalline PtIr 0.50 mm dia. |
| Length | about 10 mm |
| Polishing | Electro-polishing after mechanical grind |
| Curvant Radius | <20 nm |
| Use | STM measurement |
| Sales Unit | 1 set for 10 probes |
---
Tungsten Probes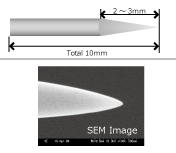 | | |
| --- | --- |
| Type | P-100WP |
| Shape | Cone shape |
| Wire Rod | Polycrystalline Tungsten 0.25 mm dia. |
| Length | about 10 mm |
| Polishing | Electro-polishing |
| Curvant Radius | <35 nm |
| Use | Multi-Probe Electrical Contact Measurement |
| Sales Unit | 1 set for 10 probes |
| Note | for the measurement that influence of the contact resistance is small (Oxide layer on the surface is not removed.) |
Ni Probes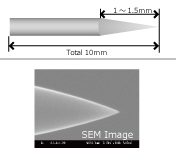 Type
P-100Ni(S)
Shape
Cone shape
Wire Rod
Polycrystalline Ni 0.25 mm dia.
Length
about 10 mm
Polishing
Electro-polishing
Curvant Radius
<25 nm
Use
STM measurement and Multi-probe electrical contact measurement

* It's possible to make a special order of Au or Ag coating probes. (Coating thickness: about 100 nm)

Sales Unit
1 set for 10 probes
Platiniridium Probes (Electro-polishing)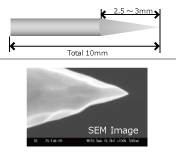 | | |
| --- | --- |
| Type | P-100PtIr(P) |
| Shape | Cone shape |
| Wire Rod | Polycrystalline PtIr 0.50 mm dia. |
| Length | about 10 mm |
| Polishing | Electro-polishing after mechanical grind |
| Curvant Radius | <20 nm |
| Use | Multi-probe electrical contact measurement (low contact resistance) |
| Sales Unit | 1 set for 10 probes |
| Note | Low contact resistance |
---