SPM Products
>
Nanoprobes/nanomeasurement
> UP2000-4P
Ambient 4-Probe Surface Measurement System UP2000-4P
PDF
Micro to Nano Manipulation of Samples
Measurements of various kinds of electric properties of sample surfaces by multi-probing
This system enables various kinds of "micron-order" to "nano-order" surface electricity measurements and manipulations in the atmosphere.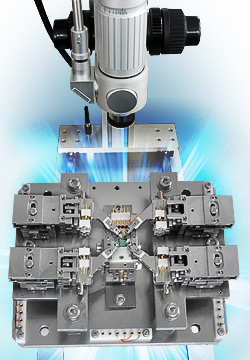 4-Probe Stage and Optical Microscope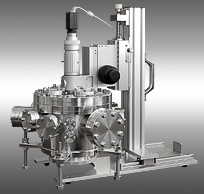 Custom Order
We also manufacture high-vacuum systems for probing, and surface measurements in vacuum. Please feel free to ask us any questions you may have.
Features
Positions each of the four probes individually along XYZ axes by using a PC and a remote control, while observing the sample surface under an optical microscope.
No need to make troublesome sample position adjustments. The sample stage can also be moved independently in X and Y directions.
Heating of the samples.
Manipulate samples easily and intuitively while observing the sample surface shown on the screen of the PC.
Basic Components
4-Probe stage (with an optical microscope)
4-Probe controller (with a remote control)
Notebook PC for controlling and observation (with a controlling software)
A set of PtIr probes
Specifications
Optical Microscope and CCD Camera
Minimum Resolution
2–13 μm (with the standard lens)
Zooming function as standard
2 Million pixels CCD camera
Maximum Display Size: 1600 × 1200 pixels
Equipped with an illumination source and fiber as standard
4-Probe Stage
Size
L 140 × W 140 mm
Inner Diameter of Stage Case (optional)
200 mm dia.
Maximum Travel Distance
XY: 5 mm, Z: 3 mm
Fine Positioning Travel Distance
1 μm
Driving Method
Pulse control and linear control modes
Sample Stage
Maximum Travel Range
X axis: 10 mm, Y axis: 5 mm
Driving Method
Pulse control
* The heating and cooling stages are available as options.
Sample Holder
Maximum Sample Size
10 × 10 mm
2 contacts for applying the current for heating
* 5 contact terminals are available for users.
Probes
Probe Tip Diameter
0.5–0.3 mm
* Other probes are available as options
* We offer Pt-Ir and tungsten probes.
* Each probe tip is provided as a measurement terminal.
Control Unit
Dedicated 4-Probe Controller
Input Voltage
100–115 VAC (50/60 Hz), 200 VA (MAX)
Input
Dedicated control terminal
Output
Dedicated 4-probe terminals (4 outputs)
Display Function
LED to indicate the pulse-controlled movements in the X, Y and Z directions
Dedicated Stage Controller
Input Voltage
100–115 VAC (50/60Hz), 100 VA (MAX)
Output Terminal
Stage control terminal, X and Y axes (switched manually)
Input Terminal
Dedicated external remote control terminal (equipped with a remote control as standard)
Personal Computer for Control
Notebook PC
Compatible with Windows® 7 and 10
Software
Dedicated control software pre-installed
Remote Control
Dedicated remote control equipped as standard
* Electric property measurement circuits and other necessary items should be prepared by the user.
PDF
---