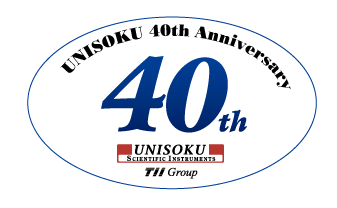 It is a delight to announce that Novemver 2013 is our 40th Anniversary. We deeply appreciate each one of our customers for your continuous support.
In last four decades, we have put our best effort to seek after the finest and most advanced technology. We will keep on pursuing the same goal, but in a higher level, contributing to the advancement of Cutting-Edge science. Once again, we would like to express our deep gratitude for your favor towards us up to this day and from now on.
Shoji Suruga
President & CEO
UNISOKU Co., Ltd.
---
About UNISOKU

USM1400
UNISOKU has developed its original techniques and designs for the lineup of our products since 1974, to support fundamental research fields. Our commitment is to manufacture our products with the advanced technology so as to meet customer's requirements. Our products have been highly evaluated by Scientists in the fundamental research communities around the world. UNISOKU significantly contributes to many research projects and collaborations with scientists at creative R&D activities. UNISOKU will keep on working toward the path for further progress in physical and biological science, chemistry, and a wide range of nanotechnology.
---
Surface Analysis Systems

Topographic Image of SI (111)
The Scanning Probe Microscope (SPM) has been utilized in wide range of application; from simple observation of surface structures to measurement of local properties at the atomic level, and further to manipulation of an individual atom. UNISOKU started the production and sale of the scanning tunneling microscope in 1985 for the first time in Japan. Since then, we have developed various advanced systems, and they have been used by a large number of customers in various research fields in different purposes. Our user-friendly approach has been welcomed by all of them. Our SPM's feature is an integrated design aimed at a compact, widely applicable, and easy-to-use system. To meet the performance and versatility requirements of customers' research, we continuously explore the possibility of new applications using SPM.




Cutting of the Carbon Nano-Tube by 2 probes
---
Optical Instruments

Cryostat data
UNISOKU started its business as the first distributor of the Stopped-Flow Rapid Scan System in Japan. Our expertise and experience of its development has so far brought about a number of innovative products, such as the Multi-Channel Spectrophotometer and Kinetic Spectroscopy Systems, using pulse lasers and flash lamps, and specific spectroscopy systems using high sensitive light detectors as photon counting tube, PDA and CCD. All the systems of recent development have one-chip processors in each of the control circuit so as to have high functions and wide applications. The regime for design and software development is so flexible that we are always ready to accept wide varieties of customization.
---